Regular price
Sale price
$25.00 USD
Unit price
per
Sale
Sold out
draws out all impurities

stimulates healthy skin regeneration
This deep-cleaning clay mask is designed to draw out the impurities and excess oil from your pores to reduce acne, oiliness, and blackheads.
Who is it for?

All skin types!

This mask can be used on all skin types and is ideal for oily skin as it contains ingredients that reduce excessive oiliness. 2 times a week or less a week is ideal!

If you have a dry skin type, you will still benefit but we recommend using it less often. Start out with once a week and monitor over drying. If so, move to once every other week! Pair this with our Vinifera Oil or Rose Water Mist to lock in that hydration!
How to use?

After cleansing, mix water and some powder into a bowl. Once thoroughly mixed, apply directly to the face and leave on for 10-15 minutes. Wash completely off and apply hydrating moisturizers and oils.

Tips:

Apply after showering, the steam will loosen dirt and excess oil.
Use once a week or less to avoid excess drying of skin.
Always moisturize after using a clay mask. Rose Mist + Vinifera Oil are perfect after.
Use as spot treatment!
Ingredients

Bentonite Clay, Kaolin Clay, Dead Sea Clay, French Green Clay, Turmeric Powder, Oatmeal Powder, Activated Charcoal
View full details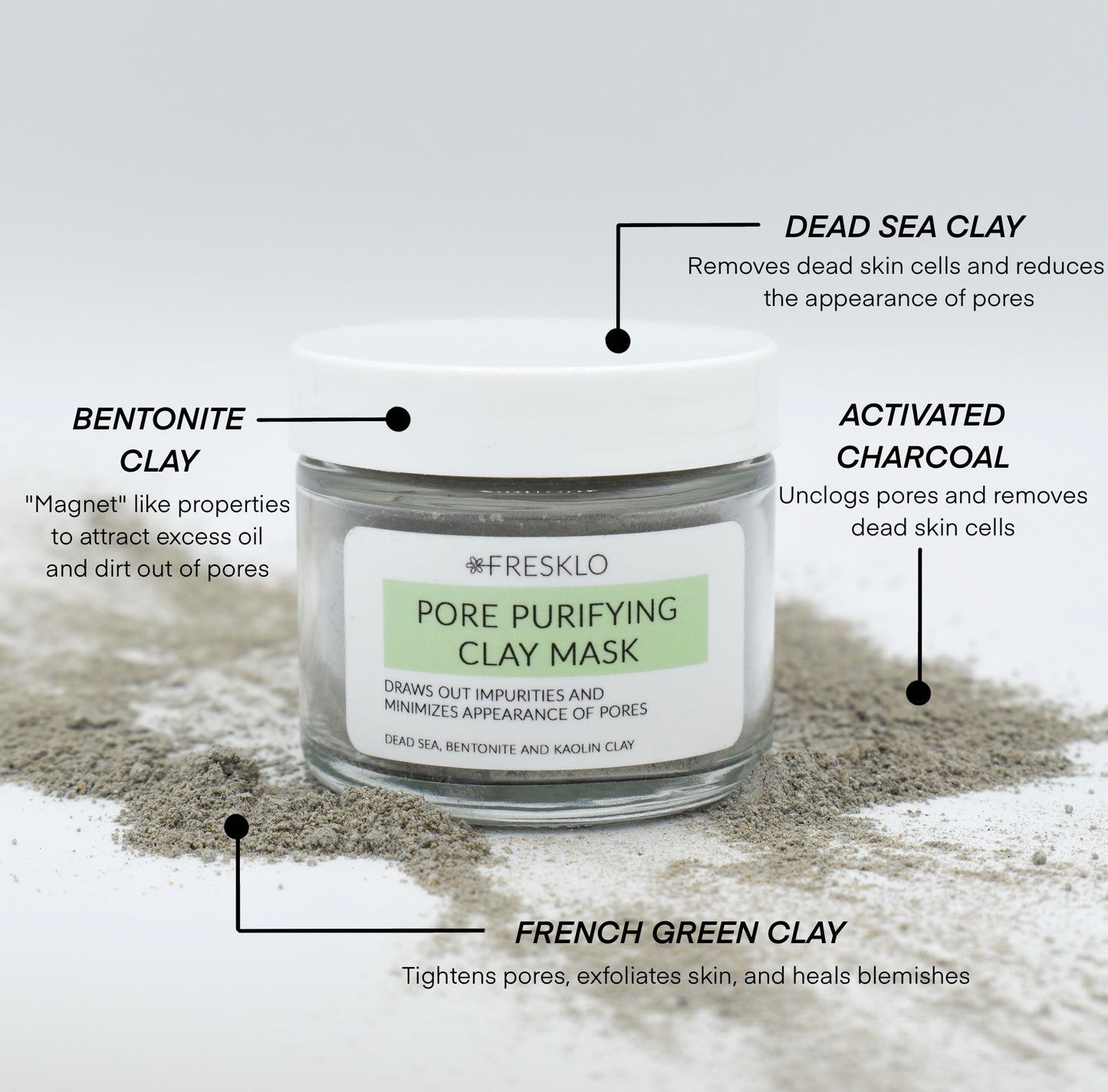 Powered by
Bentonite Clay

Formed from volcanic ash, this is a popular hero ingredient in clay masks. With its mineral rich composition, bentonite clay has an amazing absorbing capability that will suck up all the toxins that could be clogging your pores.

-

Acts as a "magnet" to attract all the excess oil, dirt, dead skin cells and bacteria from skin
Cleans and prevents pores from getting clogged (great for pesky blackheads)
Can prevent acne and soothes skin for a refreshed feeling

Dead Sea Clay

Harvested from the mineral-rich Dead Sea, this high concentration of minerals are easily absorbed by the skin and have been used for centuries to keep the skin looking healthy and young.

-

Combats resistant skin impurities by cleansing with powerful minerals
Gently exfoliates resulting in a natural smooth texture skin
Tightens, tones, and hydrates skin for an 'uplifting' effect

French Green Clay

Made from essential oils and derived from plant material such as kelp and seaweed, french green clay is essential in clay masks for many reasons.

-

Reduces the appearance of enlarged pores
Heals blemishes and other skin impurities
Improves circulation and promotes healthy cell renewal for a brighter complexion
fast and secure shipping

vegan & cruelty free

clean & ethically sourced ingredients

safe & made with care
Makes my skin feel like new
This pore purifying clay mask has helped reduced the appearance of my pores. It is not too harsh on the skin which is good if you have sensitive skin like me. It is super easy to use and makes you feel like you are getting a facial done. Would definitely buy again. Thank you Fresklo
New Favorite Face Mask!!
This mask is incredible. My face felt so clean and refreshed after using it. There's so much product so it'll last a long time. I highly recommend.
sensitive skin
i really wanted to love this clay mask, but it burned my sensitive skin really bad after trying it out. i do not recommend using if you have sensitive skin :(
PORE PURIFYING CLAY MASK
I ordered the clay mask a few weeks ago and it's so amazing! Using the clay mask for a while and I see a difference in my skin feeling smooth and fresh! I love the activated charcoal that the mask has the texture of it, especially with my oily skin it's not too dry nor makes me oily after, I totally recommend buying it!
Newest Holy Grail
Can't express how much I've been loving this mask! My skin looks and feels amazing after I rinse it off and I'm glowing for days after!!