Regular price
Sale price
$30.00 USD
Unit price
per
Sale
Sold out
can treat acne and scars

deeply moisturizes

restores natural skin glow
Formulated with six simple and natural ingredients, this serum will target and relieve major skin issues such as acne, dryness, redness, eczema, flaking, and more. This oil is perfect for an everyday glow and deep moisture that is gentle enough for sensitive skin. All the ingredients are non-comedogenic, meaning they are guaranteed to not clog your pores, and instead restore the skin's moisture for a deep glow. 
Who is it for?

All skin types!

Oils are a great additive for every skin care routine. Dry skin will thrive by adding oils at the end of the routine as it will lock in moisture and strengthen the moisture barrier.

Although it is a popular belief that oily skin types should stay away from oils, the use of our Vinifera Oil can actually reduce oiliness.

The skin attempts to overcompensate dryness by overproducing sebums and oils, so adding our Vinifera Oil to the skin will keep the skin moisturized and therefore, decrease oil production. 
How to use?

Use 2-3 drops, rub into hands, and press it into skin. Apply after cleansing and moisturizing but before SPF. Use daily in morning and night routine.

Tips:

Press into skin rather than rub to ensure the oils penetrate your skin.
Store in a dry and dark place to conserve the quality of the oils.
Apply under makeup for a subtle and healthy glow.
Ingredients

Grapeseed Oil, Calendula Infused Oil, Jojoba Oil, Argan Oil, Tea Tree Oil**, Vitamin E Oil

Tea Tree Oil is a strong essential oil that should not be used on the skin without being diluted first. Which is why we use it in our formula at less than 2%, because we care about your skin. 
View full details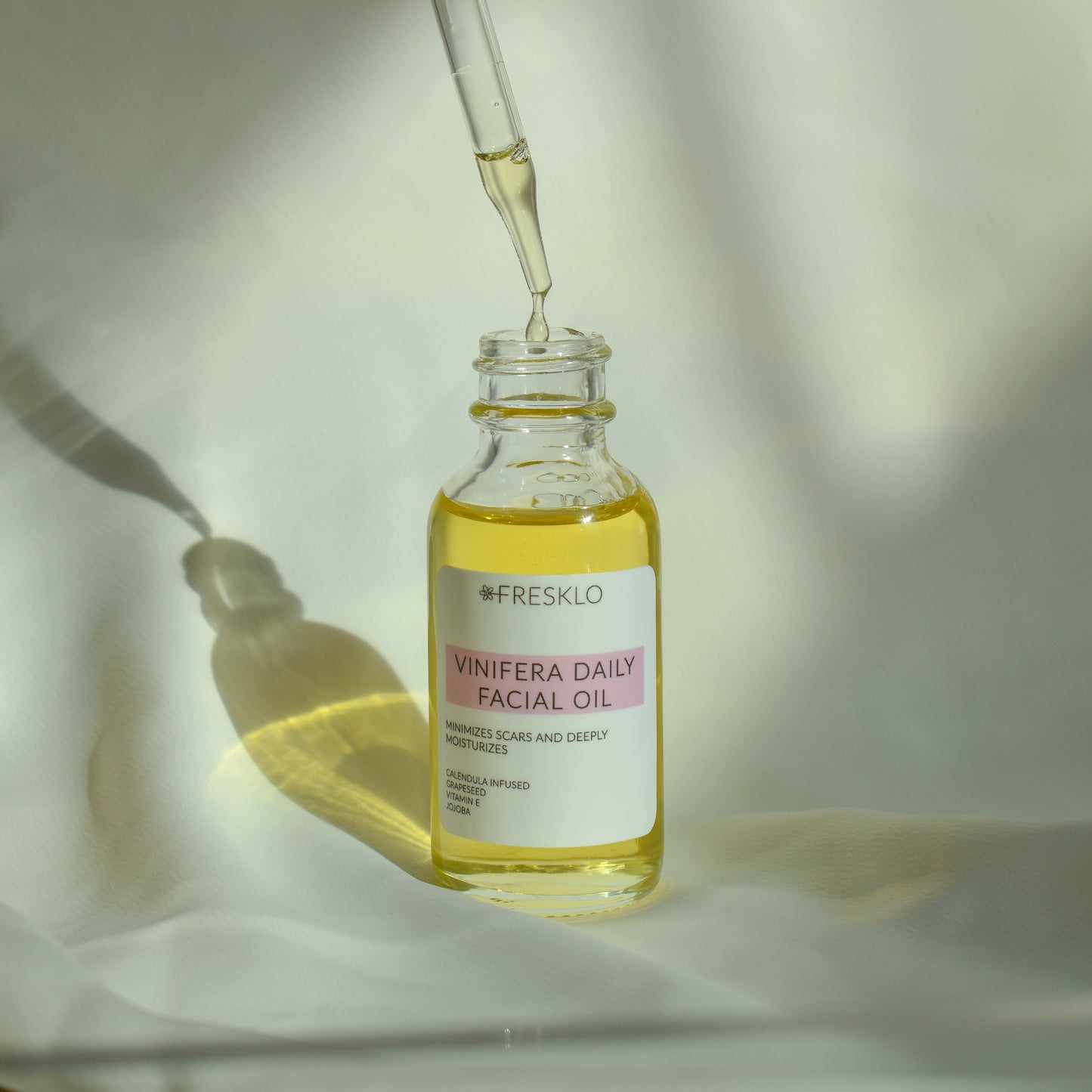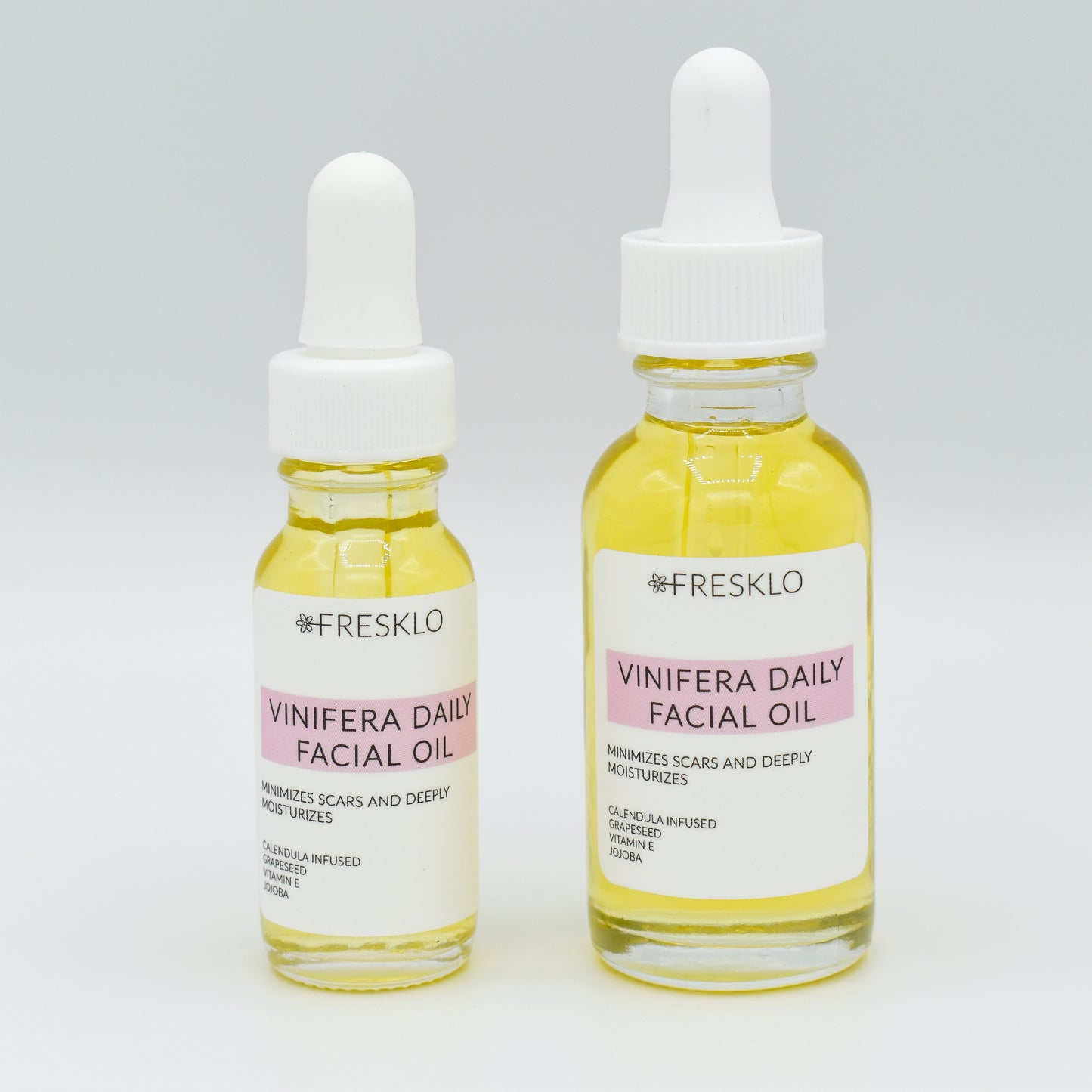 Powered by
Grapeseed oil (vitis vinifera)

Grapeseed oil is the main ingredient in this oil for many reasons. This lightweight oil is high in antioxidants and is the perfect choice for sensitive and acne prone skin.

-

Packed with vitamins E, D, C
Tightens the skin, treats acne, and provides a deep moisture
Does not leave the skin feeling greasy or clogging pores

Calendula infused oil

The calendula flower is one of nature's best remedies for all things skin. It is infused by hand before mixed in with the rest of the ingredients.

-

Treats irritated/inflamed skin, hyperpigmentation, redness, acne, eczema, wounds, and more
Proven to kill several strains of antibiotic resistant bacteria which can reduce acne
Promotes collagen production and improves skin elasticity for 'glow effect'

Jojoba oil

This oil is most commonly known for its close resemblance to the natural sebum produced by the skin.

-

Balances excess oiliness
Provides a rich moisture and can fight off acne with rich iodine content
Can heal scars and relieve eczema 
fast and secure shipping

vegan & cruelty free

clean & ethically sourced ingredients

safe & made with care
Leaves my skin glowing and is reducing my acne!
What is this magic?
I'm not even kidding you since I started using this about two week ago I've barely had breakouts and my face has been glowing! I typically have very oily skin and this has helped balance it out. what is in this magic bottle?!
VINIFERA DAILY FACIAL OIL
Amazing Oil!
So glad I purchased this, it really has been helping target my dark spots on my skin, as well as providing extra hydration during these cold months. Have been using it for about 2 weeks now and definitely will be re-purchasing.
VINIFERA DAILY FACIAL OIL
For my oily people, I do recommend this facial oil!! By far the most successful oil I tried it leaves my face hydrated in the right way, it has helped with my acne, especially with the little ones I have a hard time with. With the weather right now my skin feels so good! Can't forget it helps so well with shaving my face.