Regular price
Sale price
$15.00 USD
Unit price
per
Sale
Sold out
moisturizes and soothes skin

removes makeup, spf, and other impurities

restores natural skin glow
This oil-based cleanser will deeply cleanse your skin and melt away your makeup without stripping or irritating your skin of its natural moisture barrier, instead it will leave your skin clean and smooth. Never use makeup wipes again!
Who is it for?

All skin types!

Cleansing oils are great for anyone to use, especially for people who wear makeup and spf! They're a great replacement for harsh makeup wipes as they remove and melt away makeup in a much less abrasive way. 
How to use?

Use it as the first step in your double-cleansing routine.

Pump your desired amount of oil cleanser onto your hands and massage on dry face in circular motions.

Add water to activate the emulsifiers and allow the oil to turn into a milky formula for easy rinsing.

Follow up with your regular water-based cleanser.

Tips:

Use this oil cleanser to remove makeup, sunscreen, and reduce overall oiliness
Replace makeup wipes with this step for a much healthier skin barrier
Ingredients

Helianthus Annuus (sunflower) Seed Oil, Caprylic/Capric Triglyceride, Grapeseed Oil, Polysorbate 80, Jojoba Oil, Vitamin E (Tocopherol), Phenoxyethanol (preservative)
View full details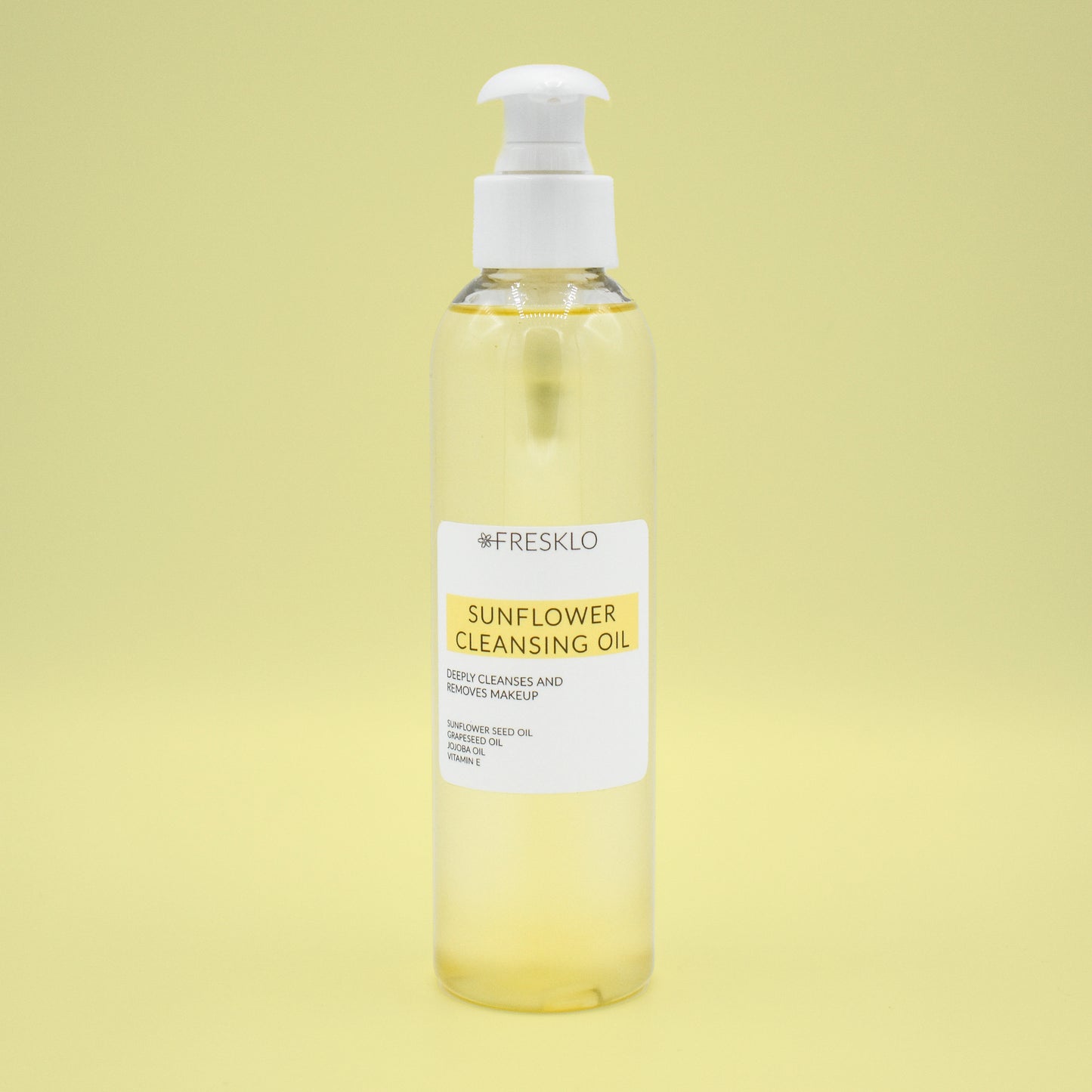 Powered by
Sunflower Seed Oil

Sunflower oil is a non-comedogenic oil (will not clog pores) that is perfect for all skin types. Packed with oleic acid, vitamin E, sesamol, and linoleic acid it is a must have.

-

Protects and nourishes the skin, improving skin barrier function, and reducing inflammation
Softens and silky smoothes skin quickly and naturally
Moisturizes the skin while cleansing
Doesn't trigger breakouts

Grapeseed Oil

Grapeseed oil is the main ingredient in this serum for many reasons. This lightweight oil is high in antioxidants and is the perfect choice for sensitive and acne prone skin.

-

Packed with vitamins E, D, and C
Tightens the skin, treats acne, and provides a deep moisture
Does not leave the skin feeling greasy or clogging pores

Caprylic/Capric Triglyceride

This ingredient is considered to be an amazing natural emollient made with parts of coconut oil or palm kernel oil, which are often used to moisturize and soothe the skin.

-

Naturally retains moisture and replenishes skin barrier
Enhances efficiency of sunflower seed and grapeseed oils
Neutralize free radicals that can cause skin damage and aging (smooth skin tone and texture)
fast and secure shipping

vegan & cruelty free

clean & ethically sourced ingredients

safe & made with care
Wonderful!!
This cleansing oil left my skin feeling so clean. I am allergic to fragrances so this product felt really good on my skin.
Sunflower cleansing oil
I have super dry skin and using a regular cleansing oil doesn't really help I want to try this to see if it works a little bit better and I've seen a lot of good reviews on it so also I seen it a lot in your daily routines
want to try!
This cleaning oil looks amazing! It looks like a great product to use when I'm winding down at night. And I love the vegan ingredients it's formulated with 🌱 I definitely want to try it! 😍
Excited to try it out!
The product has amazing ingredients in it & I can't wait to try it out! :)